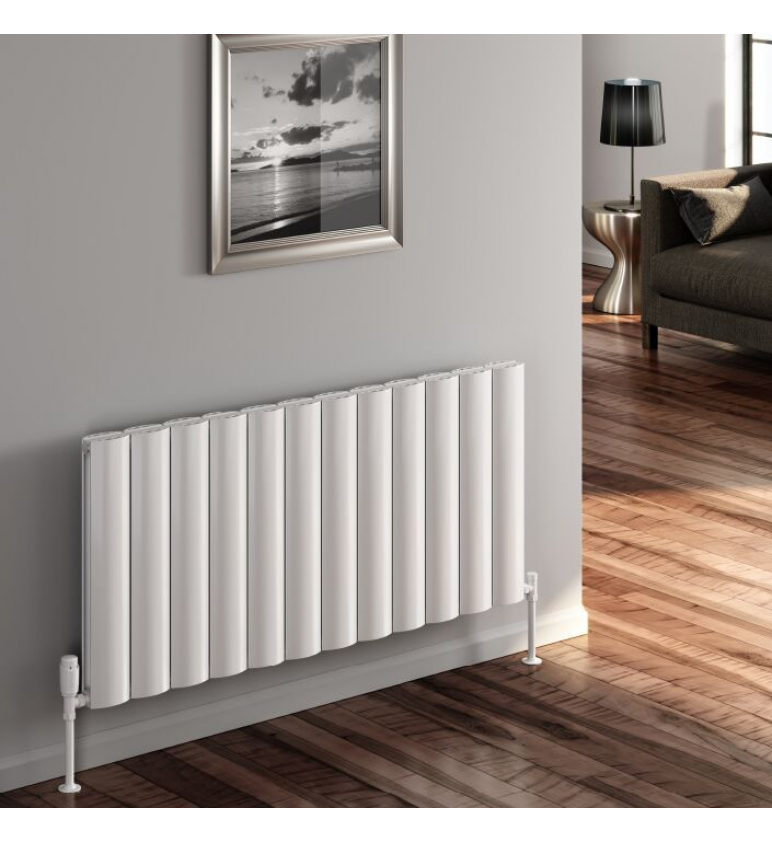 The Reina Belva is an aluminium radiator with excellent output.
Transparent Pricing: Prices include delivery* & VAT.


Range: 6 vertical models, single & double.
Finish: Anthracite or white.
Towel Bar: Anthracite, white or chrome.


Mounting: Wall mounted - brackets included.
Fuel: CH, also dual fuel and electric-only - horizontal models.


Guarantee: Five years.

Delivery: FREE to UK Mainland only, Highlands excepted.




Image: Belva horizontal double radiator 600 x 1244 in white,
with matching Modal TRV valves.





Width 308 mm
| Model Number | No. of Sections | Height (mm) | Width (mm) | Depth (mm) | Pipe Centres (mm) | Watts Δt 50°C | BTUs Δt 50°C | RRP | Our Price | In Stock |
| --- | --- | --- | --- | --- | --- | --- | --- | --- | --- | --- |
| A-BLV180030D | 6 | 1800 | 308 | 68 | 308 | 1132 | 3859 | £600.00 | £341.00 | Yes |
| A-BLV180030S | 3 | 1800 | 308 | 68 | 308 | 735 | 2506 | £432.00 | £245.00 | Yes |
Width 412 mm
| Model Number | No. of Sections | Height (mm) | Width (mm) | Depth (mm) | Pipe Centres (mm) | Watts Δt 50°C | BTUs Δt 50°C | RRP | Our Price | In Stock |
| --- | --- | --- | --- | --- | --- | --- | --- | --- | --- | --- |
| A-BLV180041D | 8 | 1800 | 412 | 68 | 412 | 1509 | 5145 | £780.00 | £443.00 | Yes |
| A-BLV180051S | 4 | 1800 | 412 | 68 | 412 | 980 | 3341 | £552.00 | £313.00 | Yes |
Width 516 mm
| Model Number | No. of Sections | Height (mm) | Width (mm) | Depth (mm) | Pipe Centres (mm) | Watts Δt 50°C | BTUs Δt 50°C | RRP | Our Price | In Stock |
| --- | --- | --- | --- | --- | --- | --- | --- | --- | --- | --- |
| A-BLV180051D | 10 | 1800 | 516 | 68 | 516 | 1886 | 6431 | £948.00 | £538.00 | Yes |
| A-BLV180041S | 5 | 1800 | 516 | 68 | 516 | 1225 | 4176 | £672.00 | £381.00 | Yes |