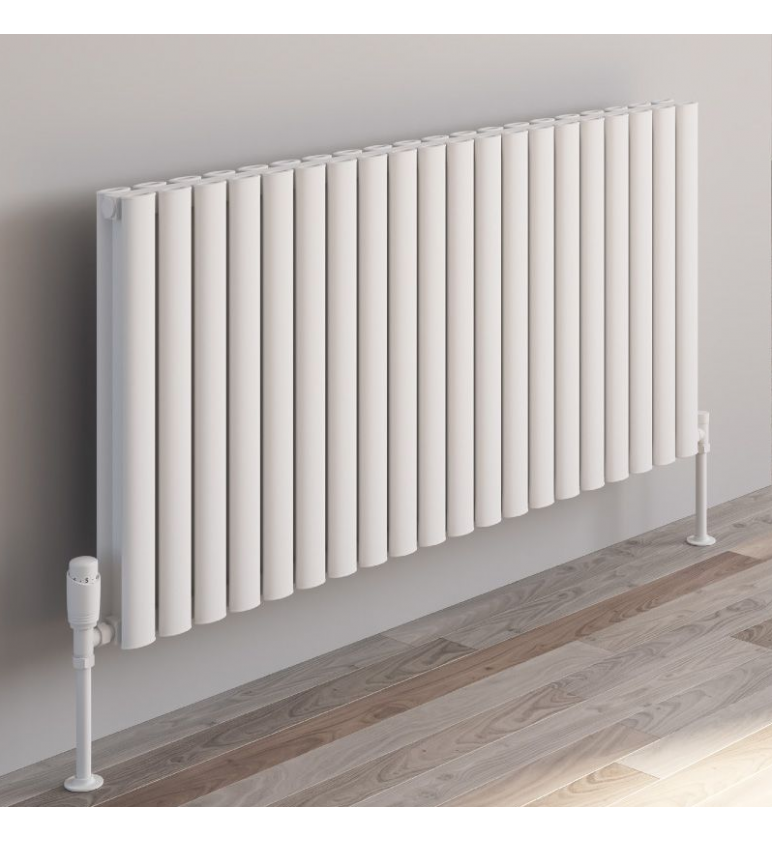 The Neval Double comprises vertical oval tubes and is stylish and efficient with a fast response time. Available in White, Anthracite and Polished.

Transparent pricing: Prices include delivery and VAT.


Sizes: 6 horizontal (600mm), 5 vertical (1800mm) models.

Finish: White, Anthracite, Polished


Fuel: CH. Optional dual fuel & electric-only - horizontal models.


Mounting: Wall mounted, brackets included.

Pipe Centres: Width+valves, 55mm off wall.

Valves: Matching valves available.

Guarantee: 5 years.


FREE Delivery: Next Day* to GB mainland, Highlands excepted.

| Model Number | No. of Sections | Height (mm) | Width (mm) | Depth (mm) | Weight (kg) | Pipe Centres (mm) | Watts Δt 50°C | BTUs Δt 50°C | RRP | Our Price | In Stock |
| --- | --- | --- | --- | --- | --- | --- | --- | --- | --- | --- | --- |
| A-NVL06040D | 14 | 600 | 404 | 94 | 0 | 55 | 652 | 2223 | £340.80 | £193.00 | Yes |
| A-NVL06058D | 20 | 600 | 581 | 94 | 0 | 55 | 931 | 3176 | £443.76 | £251.00 | Yes |
| A-NVL06081D | 28 | 600 | 817 | 94 | 0 | 55 | 1304 | 4447 | £595.56 | £336.00 | Yes |
| A-NVL06099D | 34 | 600 | 994 | 94 | 0 | 55 | 1583 | 5400 | £686.64 | £388.00 | Yes |
| A-NVL06117D | 40 | 600 | 1171 | 94 | 0 | 55 | 1863 | 6352 | £790.92 | £447.00 | Yes |
| A-NVL06140D | 48 | 600 | 1407 | 94 | 0 | 55 | 2235 | 7623 | £929.52 | £525.00 | Yes |
| A-NVL18028D | 10 | 1800 | 286 | 94 | 0 | 55 | 1401 | 4777 | £524.28 | £296.00 | Yes |
| A-NVL18034D | 12 | 1800 | 345 | 94 | 0 | 55 | 1681 | 5733 | £590.28 | £334.00 | Yes |
| A-NVL18040D | 14 | 1800 | 404 | 94 | 0 | 55 | 1961 | 6688 | £691.92 | £391.00 | Yes |
| A-NVL18046D | 16 | 1800 | 463 | 94 | 0 | 55 | 2242 | 7644 | £768.48 | £434.00 | Yes |
| A-NVL18052D | 18 | 1800 | 522 | 94 | 0 | 55 | 2522 | 8599 | £858.24 | £485.00 | Yes |