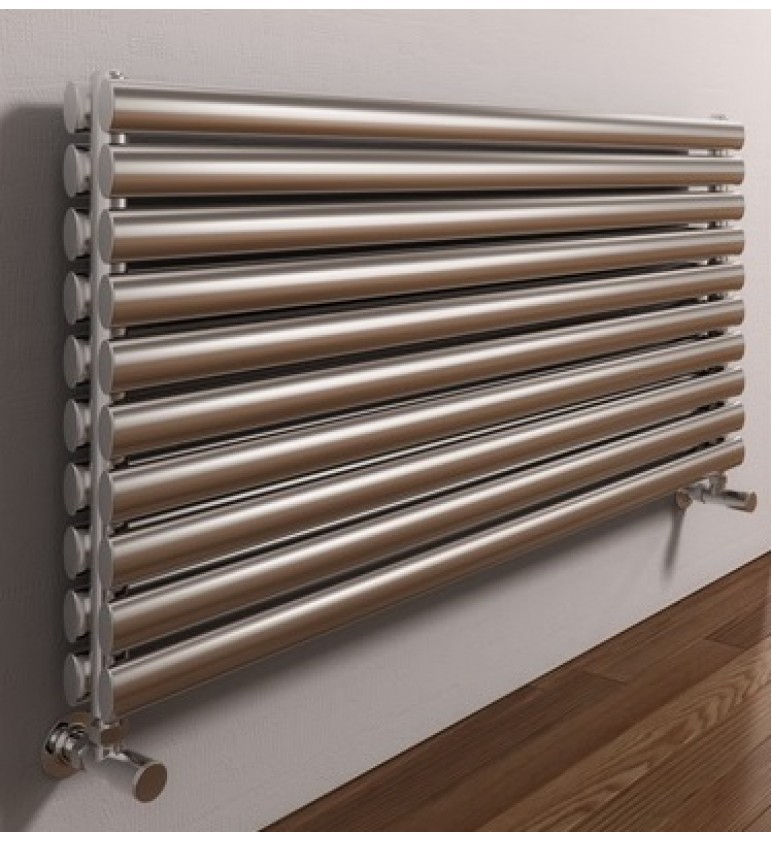 Reina Artena Horizontal Stainless Steel Radiators are available in both polished and satin finishes, and in single and double output formats.

Prices include Delivery & VAT - no nasty surprises at the checkout.


Range: Height of 590mm, single or double outputs, widths of 400, 600, 800, 1000 and 1200mm.

Finish: Satin or Polished Stainless Steel.


Dual Fuel: CH as standard with dual fuel and electric-only options.

Mounting: Wall mounted only - brackets included.

Guarantee: 25 Years.

FREE Delivery: to UK mainland, Highlands excepted.

| Model Number | No. of Sections | Height (mm) | Width (mm) | Depth (mm) | Weight (kg) | Pipe Centres (mm) | Watts Δt 50°C | BTUs Δt 50°C | RRP | Our Price | In Stock |
| --- | --- | --- | --- | --- | --- | --- | --- | --- | --- | --- | --- |
| RNS-AT904 | 10 | 590 | 400 | 103 | 0 | 360 | 325 | 1110 | £339.74 | £192.00 | Yes |
| RNS-AT906 | 10 | 590 | 600 | 103 | 0 | 560 | 488 | 1665 | £452.08 | £257.00 | Yes |
| RNS-AT908 | 10 | 590 | 800 | 103 | 0 | 760 | 651 | 2220 | £565.93 | £321.00 | Yes |
| RNS-AT910 | 10 | 590 | 1000 | 103 | 0 | 960 | 813 | 2775 | £679.78 | £386.00 | Yes |
| RNS-AT912 | 10 | 590 | 1200 | 103 | 0 | 1160 | 977 | 3330 | £792.11 | £450.00 | Yes |
| RNS-AT904D | 20 | 590 | 400 | 103 | 0 | 360 | 451 | 1538 | £485.47 | £276.00 | Yes |
| RNS-AT906D | 20 | 590 | 600 | 103 | 0 | 560 | 762 | 2597 | £701.03 | £398.00 | Yes |
| RNS-AT908D | 20 | 590 | 800 | 103 | 0 | 760 | 1015 | 3463 | £907.48 | £515.00 | Yes |
| RNS-AT910D | 20 | 590 | 1000 | 103 | 0 | 960 | 1270 | 4329 | £1,123.03 | £637.00 | Yes |
| RNS-AT912D | 20 | 590 | 1200 | 103 | 0 | 1160 | 1524 | 5195 | £1,329.48 | £754.00 | Yes |