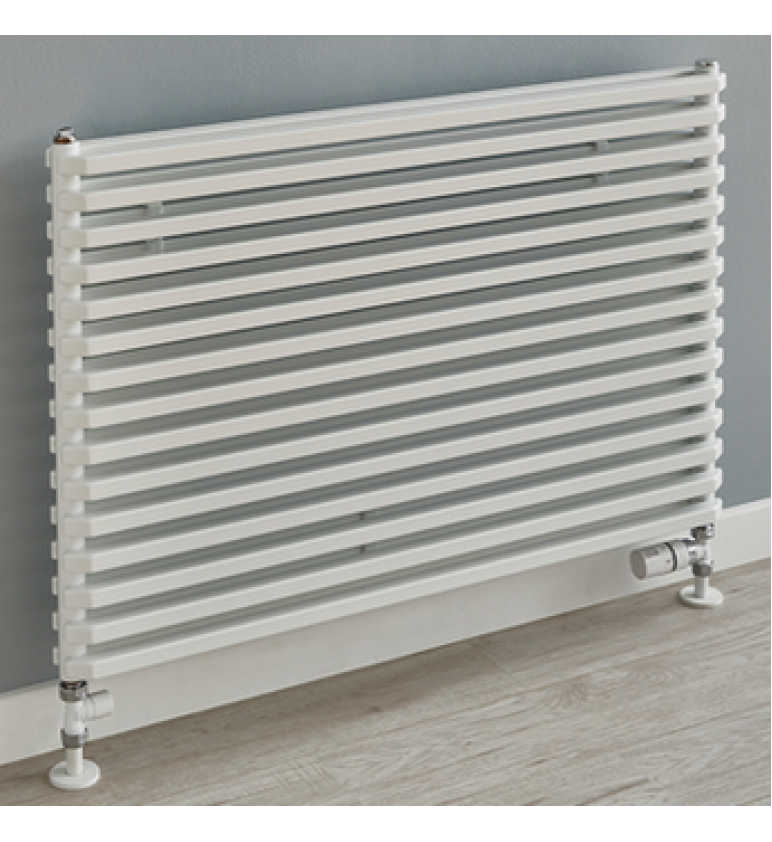 The Larkin from Supplies4Heat is a very elegant steel radiator with 20mm x 25mm tubes and 30mm collectors. Horizontal, vertical, single and double models, and a 10-year guarantee.

Pricing: Includes delivery & VAT - no nasty shocks at the checkout ...


Range: Horizontal heights, 520 & 600mm. Vertical - 1800mm.
Finish: White RAL 9016 Standard. Optionally, 23 RAL Colours & 10 Special Finishes.


Mounting: Wall mounting only. Brackets & air vents included.
Fuel: CH only.


Guarantee: 10 years


FREE Delivery: to UK Mainland only, Highlands excepted.



Height 520 mm
| Model Number | No. of Sections | Height (mm) | Width (mm) | Depth (mm) | Weight (kg) | Watts Δt 50°C | BTUs Δt 50°C | RRP | Our Price |
| --- | --- | --- | --- | --- | --- | --- | --- | --- | --- |
| LARK521213SH | 13 | 520 | 1200 | 95 | 13.7 | 799 | 2726 | £560.40 | £402.00 |
| LARK521226DH | 26 | 520 | 1200 | 116 | 24.6 | 1272 | 4340 | £1,039.20 | £722.00 |
Height 600 mm
| Model Number | No. of Sections | Height (mm) | Width (mm) | Depth (mm) | Weight (kg) | Watts Δt 50°C | BTUs Δt 50°C | RRP | Our Price |
| --- | --- | --- | --- | --- | --- | --- | --- | --- | --- |
| LARK609015SH | 15 | 600 | 900 | 95 | 12.4 | 686 | 2341 | £562.80 | £404.00 |
| LARK609030DH | 30 | 600 | 900 | 116 | 21.8 | 1066 | 3637 | £1,056.00 | £734.00 |
| LARK601215SH | 15 | 600 | 1200 | 95 | 15.7 | 915 | 3122 | £596.40 | £426.00 |
| LARK601230DH | 30 | 600 | 1200 | 116 | 28.3 | 1422 | 4852 | £1,110.00 | £770.00 |
Height 1800 mm
| Model Number | No. of Sections | Height (mm) | Width (mm) | Depth (mm) | Weight (kg) | Watts Δt 50°C | BTUs Δt 50°C | RRP | Our Price |
| --- | --- | --- | --- | --- | --- | --- | --- | --- | --- |
| LARK184010SV | 10 | 1800 | 400 | 95 | 15.1 | 861 | 2938 | £559.20 | £401.00 |
| LARK184020DV | 20 | 1800 | 400 | 116 | 27.7 | 1356 | 4627 | £1,024.80 | £713.00 |
| LARK185213SV | 13 | 1800 | 520 | 95 | 19.4 | 1119 | 3818 | £642.00 | £457.00 |
| LARK185226DV | 26 | 1800 | 520 | 116 | 35.8 | 1762 | 6012 | £1,179.60 | £816.00 |