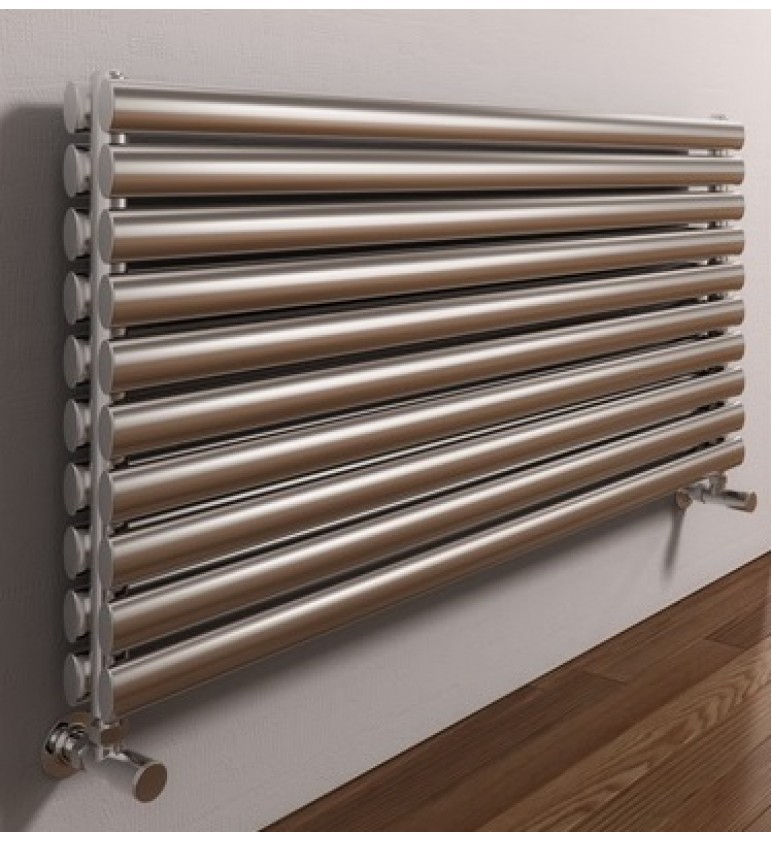 Reina Artena Horizontal Stainless Steel Radiators are available in both polished and satin finishes, and in single and double output formats. They have an elegant tubular design, and will add style to any home.
Discounts available: on purchases of 4 or more of the Artena..

Range: Height of 590mm, single or double outputs, widths of 400, 600, 800, 1000 and 1200mm.

Finish: Satin or Polished Stainless Steel.


Dual Fuel: CH as standard with dual fuel and electric-only options.

Mounting: Wall mounted only - brackets included.

Guarantee: 25 Years.

FREE Delivery: Next Day to UK mainland, Highlands excepted.

| Model Number | No. of Sections | Height (mm) | Width (mm) | Depth (mm) | Weight (kg) | Pipe Centres (mm) | Watts Δt 50°C | BTUs Δt 50°C | RRP | Our Price |
| --- | --- | --- | --- | --- | --- | --- | --- | --- | --- | --- |
| ARTSH-059-040 | 10 | 590 | 400 | 103 | 0 | 360 | 325 | 1110 | £287.04 | £162.00 |
| ARTSH-059-060 | 10 | 590 | 600 | 103 | 0 | 560 | 488 | 1665 | £389.16 | £220.00 |
| ARTSH-059-080 | 10 | 590 | 800 | 103 | 0 | 760 | 651 | 2220 | £492.66 | £278.00 |
| ARTSH-059-100 | 10 | 590 | 1000 | 103 | 0 | 960 | 813 | 2775 | £596.16 | £337.00 |
| ARTSH-059-120 | 10 | 590 | 1200 | 103 | 0 | 1160 | 977 | 3330 | £662.28 | £374.00 |
| ARTDH-059-040 | 20 | 590 | 400 | 103 | 0 | 360 | 451 | 1538 | £419.52 | £237.00 |
| ARTDH-059-060 | 20 | 590 | 600 | 103 | 0 | 560 | 762 | 2597 | £615.48 | £348.00 |
| ARTDH-059-080 | 20 | 590 | 800 | 103 | 0 | 760 | 1015 | 3463 | £803.16 | £454.00 |
| ARTDH-059-100 | 20 | 590 | 1000 | 103 | 0 | 960 | 1270 | 4329 | £999.12 | £565.00 |
| ARTDH-059-120 | 20 | 590 | 1200 | 103 | 0 | 1160 | 1524 | 5195 | £1,186.80 | £671.00 |