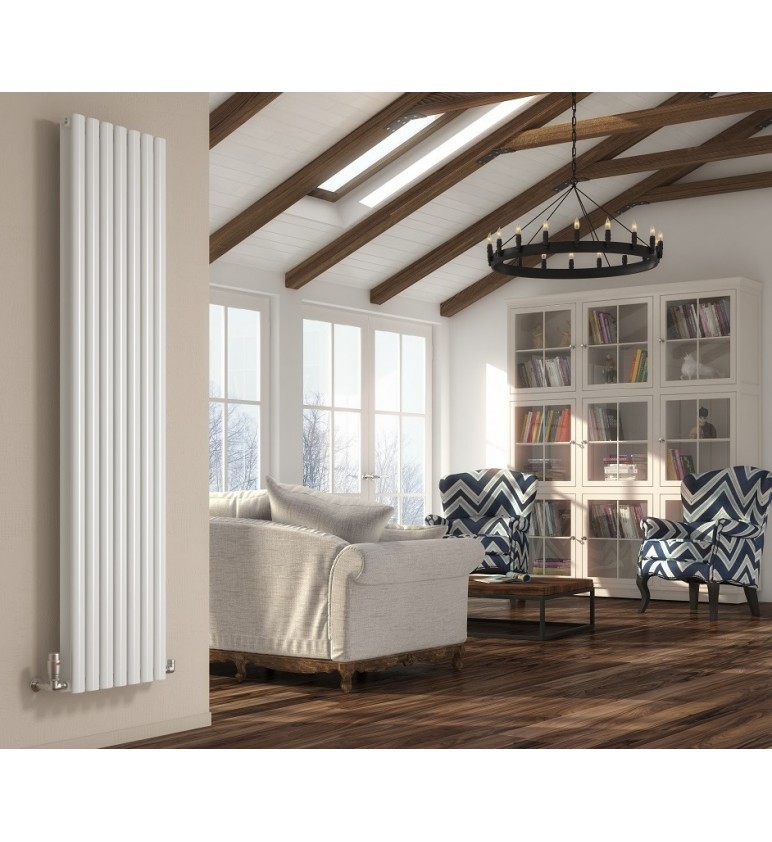 The Neva vertical single radiators are available in white or anthracite finishes as standard, with a range of optional RAL and speial RAL finishes. Matching valves are also available.

Range: New sizes. Available 1500 & 1800H, and six widths.

Finish: Available in white, anthracite and optional RAL colours.

Dual Fuel: Central heating only.

Mounting: Wall mounted only - brackets included.

Guarantee: 5 Years.

FREE Delivery: UK mainland, Highlands excepted.




| Model Number | No. of Sections | Height (mm) | Width (mm) | Depth (mm) | Weight (kg) | Pipe Centres (mm) | Watts Δt 50°C | BTUs Δt 50°C | RRP | Our Price | In Stock |
| --- | --- | --- | --- | --- | --- | --- | --- | --- | --- | --- | --- |
| NV2315 | 4 | 1500 | 236 | 103 | 0 | 236 | 429 | 1462 | £156.00 | £86.00 | Yes |
| NV2915 | 5 | 1500 | 295 | 103 | 0 | 295 | 533 | 1818 | £182.40 | £100.00 | Yes |
| NV3515 | 6 | 1500 | 354 | 103 | 0 | 354 | 640 | 2182 | £208.80 | £115.00 | Yes |
| NV4115 | 7 | 1500 | 413 | 103 | 0 | 413 | 747 | 2546 | £240.48 | £132.00 | Yes |
| NV4715 | 8 | 1500 | 472 | 103 | 0 | 472 | 853 | 2910 | £269.52 | £148.00 | Yes |
| NV5315 | 9 | 1500 | 531 | 103 | 0 | 531 | 960 | 3273 | £295.92 | £163.00 | Yes |
| NV2318 | 4 | 1800 | 236 | 103 | 0 | 236 | 515 | 1754 | £171.84 | £95.00 | Yes |
| NV2918 | 5 | 1800 | 295 | 103 | 0 | 295 | 640 | 2182 | £206.16 | £113.00 | Yes |
| NV3518 | 6 | 1800 | 354 | 103 | 0 | 354 | 768 | 2618 | £237.84 | £131.00 | Yes |
| NV4118 | 7 | 1800 | 413 | 103 | 0 | 413 | 896 | 3055 | £269.52 | £148.00 | Yes |
| NV4718 | 8 | 1800 | 472 | 103 | 0 | 472 | 1024 | 3491 | £303.84 | £167.00 | Yes |
| NV5318 | 9 | 1800 | 531 | 103 | 0 | 531 | 1303 | 4444 | £340.80 | £187.00 | Yes |