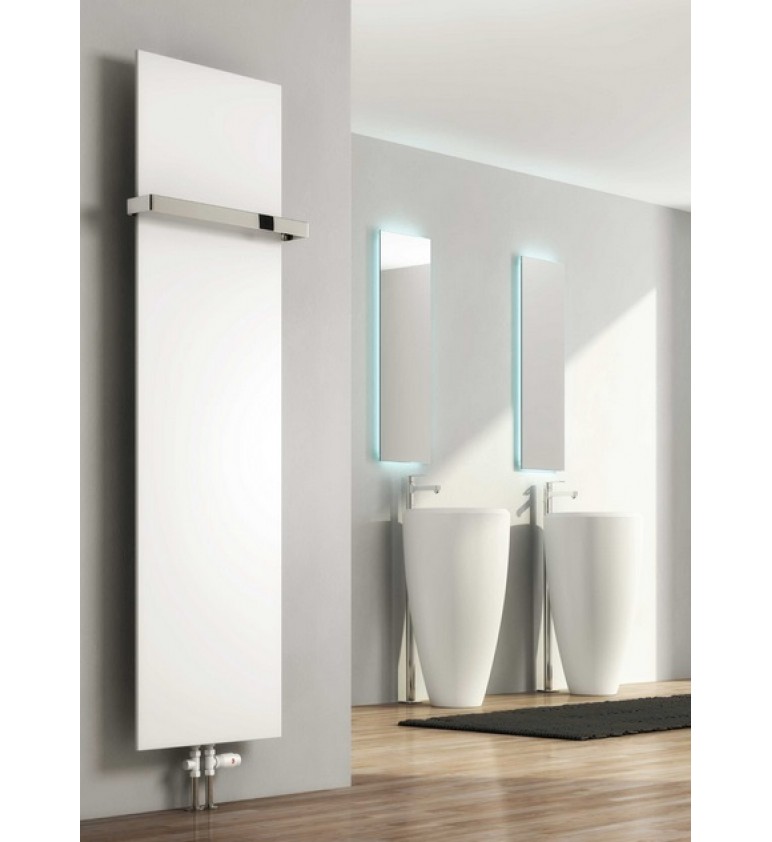 The contemporary Slimline is available in eleven vertical sizes, from 470mm high to 1770mm high and 300, 400 or 500mm wide, and available from stock in either White or Anthracite. RAL painted radiators - please allow around an additional seven working days.
Three widths of chrome towel bars are available for the vertical models.
Transparent Pricing: Delivery and VAT included in all prices.


Range: Eleven vertical radiators, 470 - 1770 in height and 300 - 500wide.

Finish: White and Anthracite as standard. 40 RAL colours also available.

Mounting: Wall mounted - brackets supplied.

Guarantee: 5 years

FREE Delivery: to GB Mainland only, excluding Highlands & islands.

| Model Number | No. of Sections | Height (mm) | Width (mm) | Depth (mm) | Weight (kg) | Pipe Centres (mm) | Watts Δt 50°C | BTUs Δt 50°C | RRP | Our Price | In Stock |
| --- | --- | --- | --- | --- | --- | --- | --- | --- | --- | --- | --- |
| RND-SLN04703 | 1 | 470 | 300 | 55 | 0 | 50 | 185 | 631 | £212.76 | £121.00 | Yes |
| RND-SLN07703 | 1 | 770 | 300 | 55 | 0 | 50 | 304 | 1036 | £235.99 | £134.00 | Yes |
| RND-SLN11703 | 1 | 1170 | 300 | 55 | 0 | 50 | 462 | 1576 | £262.13 | £149.00 | Yes |
| RND-SLN11704 | 1 | 1170 | 400 | 55 | 0 | 50 | 616 | 2101 | £298.43 | £169.00 | Yes |
| RND-SLN11705 | 1 | 1170 | 500 | 55 | 0 | 50 | 770 | 2625 | £321.66 | £183.00 | Yes |
| RND-SLN14703 | 1 | 1470 | 300 | 55 | 0 | 50 | 581 | 1981 | £298.43 | £169.00 | Yes |
| RND-SLN14704 | 1 | 1470 | 400 | 55 | 0 | 50 | 774 | 2640 | £343.44 | £195.00 | Yes |
| RND-SLN14705 | 1 | 1470 | 500 | 55 | 0 | 50 | 968 | 3301 | £394.26 | £224.00 | Yes |
| RND-SLN17703 | 1 | 1770 | 300 | 55 | 0 | 50 | 699 | 2385 | £343.44 | £195.00 | Yes |
| RND-SLN17704 | 1 | 1770 | 400 | 55 | 0 | 50 | 932 | 3178 | £379.74 | £216.00 | Yes |
| RND-SLN17705 | 1 | 1770 | 500 | 55 | 0 | 50 | 1165 | 3973 | £445.08 | £253.00 | Yes |