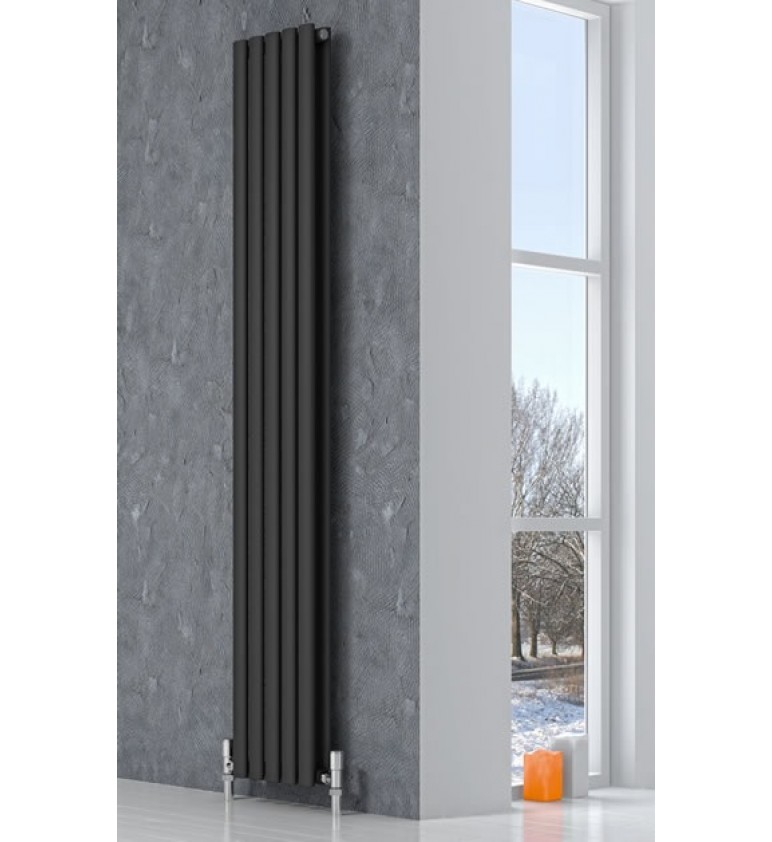 The Neva vertical is available in single and double formats with white, anthracite or RAL colour finishes.
FREE Delivery: Next Working Day - UK Mainland only, Highlands excepted.

Range: New sizes. Available in double formats; two heights a- 1500 and 1800, with six widths in each.

Finish: Available in white, anthracite & RAL colours.

Dual Fuel: Central heating only.

Mounting: Wall mounted only - brackets included.

Guarantee: 5 Years.
| Model Number | No. of Sections | Height (mm) | Width (mm) | Depth (mm) | Weight (kg) | Pipe Centres (mm) | Watts Δt 50°C | BTUs Δt 50°C | RRP | Our Price |
| --- | --- | --- | --- | --- | --- | --- | --- | --- | --- | --- |
| NEVDV-150-023 | 8 | 1500 | 236 | 103 | 0 | 236 | 648 | 2208 | £220.80 | £119.00 |
| NEVDV-150-029 | 10 | 1500 | 295 | 103 | 0 | 295 | 805 | 2745 | £278.40 | £150.00 |
| NEVDV-150-035 | 12 | 1500 | 354 | 103 | 0 | 354 | 966 | 3295 | £314.40 | £170.00 |
| NEVDV-150-041 | 14 | 1500 | 413 | 103 | 0 | 413 | 1127 | 3844 | £379.20 | £205.00 |
| NEVDV-150-047 | 16 | 1500 | 472 | 103 | 0 | 472 | 1289 | 4394 | £408.00 | £220.00 |
| NEVDV-150-053 | 18 | 1500 | 531 | 103 | 0 | 531 | 1449 | 4943 | £456.00 | £246.00 |
| NEVDV-180-023 | 8 | 1800 | 236 | 103 | 0 | 236 | 777 | 2649 | £252.00 | £136.00 |
| NEVDV-180-029 | 10 | 1800 | 295 | 103 | 0 | 295 | 966 | 3295 | £304.80 | £165.00 |
| NEVDV-180-035 | 12 | 1800 | 354 | 103 | 0 | 354 | 1159 | 3953 | £358.80 | £194.00 |
| NEVDV-180-041 | 14 | 1800 | 413 | 103 | 0 | 413 | 1352 | 4613 | £408.00 | £220.00 |
| NEVDV-180-047 | 16 | 1800 | 472 | 103 | 0 | 472 | 1546 | 5272 | £468.00 | £253.00 |
| NEVDV-180-053 | 18 | 1800 | 531 | 103 | 0 | 531 | 1968 | 7059 | £552.00 | £298.00 |